Ordinary   /   Everyday   /   Quotidian
30/6/2021 ☼ post ☼ conference ☼ york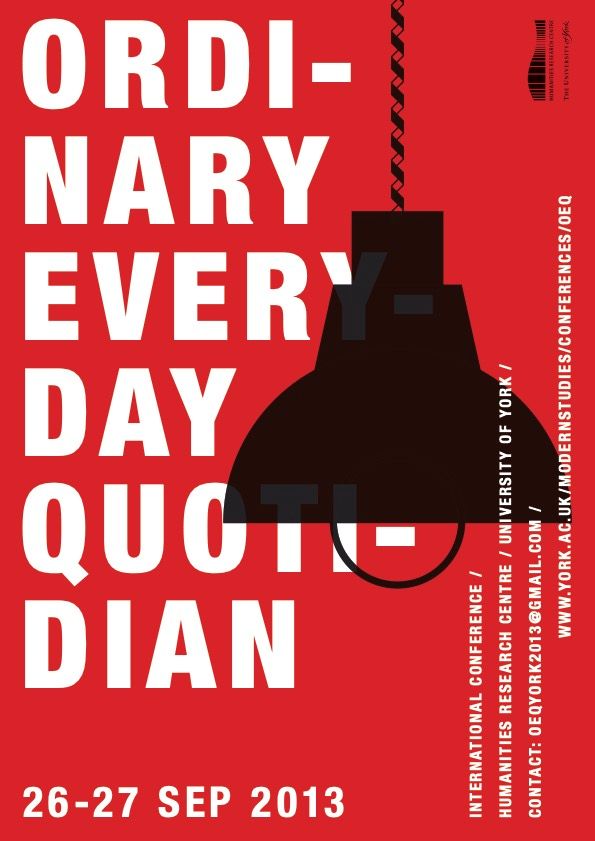 Organisers: Alex Beaumont, Stephanie Lambert, Benjamin Madden, Lawrence Rainey
THE ORDINARY AND THE EVERYDAY are intuitively self-evident, yet notoriously elusive. Efforts to define "ordinary language" or "everyday practice" have preoccupied thinkers across many disciplines: philosophers, historians, sociologists, political theorists, geographers, and critics of literature and the visual arts. And these subjects demand more attention from scholars working on race, class, gender and sexuality, as well as food studies and the digital and medical humanities. Yet existing efforts have rarely engaged in dialogue with their counterparts in other disciplines.
Ordinary/Everyday/Quotidian is a research strand in the University of York's Centre for Modern Studies devoted to bridging this disciplinary divide and exploring the various national traditions of thinking about the everyday. In order to do so, we have held a series of lectures and seminars throughout academic year 2012-13 with contributions from French Studies, English, History, Philosophy, Sociology, and the History of Art. We are pleased to have some of those guest speakers joining us again for the colloquium that concludes this conference.
One of the major impediments to interdisciplinary cooperation on the everyday is the persistence of discipline-specific vocabularies. In order to tackle this problem directly, this conference has grouped papers according to theme, rather than by discipline. As a result, all participants will be challenged to think outside of their habitual disciplinary vocabularies, and, we hope, emerge with fresh insights into their own presuppositions and an expanded conceptual toolbox for thinking about the everyday.
Day

1, 26 September
9.30:
Registration

And

Morning

Coffee

 /  

Berrick

Saul

Building

(

Bsb

)

Foyer
10.00:
Welcome

And

Introduction

  /  

Bowland

Auditorium
10.15:
Keynote

Address

  /  

Bowland

Auditorium

Dr. Bryony Randall, University of Glasgow

A Day's Time: the One-Day Novel and the Temporality of the Everyday

'Everyday life is above all a temporal term' (Rita Felski), Yet work on the everyday, particularly in literary studies, has tended to focus on aspects of the spatial — objects, spaces, bodies. In particular, the one-day novel, while often the jumping-off point for discussions of the everyday, has received only superficial attention precisely in terms of its overall temporal structure. Focusing on recent one-day novels, in particular those in clear conversation with their canonical modernist precursors, and drawing on contemporary sociological and narratological approaches to (daily) temporality, this talk aims to turn or return our attention to the question of what a 'day' means.

See: Randall, Bryony. "A Day's Time: The One-Day Novel and the Temporality of the Everyday." New Literary History 47, no. 4 (2016): 591-610. doi:10.1353/nlh.2016.0031.
11.15:
Panel

1

EVERYDAY HABITS   /   BOWLAND AUDITORIUM
Lakshmi Priya Rajendran (Architecture) Everyday Spatial Practices in Urban Environments
Peter Fosl (Philosophy) Scepticism, Habit, and 'Common Life' in Hume
Paul Wilson (Design) The Grace of Everyday Texts: Reading the Typographic Traces of the Working-Men's Club*
POLITICS OF THE ORDINARY   /   SEMINAR ROOM (BS 008)
Lora Koycheva (Slavonic & East European Studies) After Crisis: Chaos as Ordinary and the Catastrophe of the Political in Postsocialist Sofia, Bulgaria
Tammy Amiel Houser (Literature, Lanuages and the Arts) Everydayness and Political Domination: David Grossman's To the End of the Land
Emel Uzun (Sociology) Encounters in Everyday Life: The Kurdish Question in Turkey
12.45:
Lunch

  /  

Bsb

Foyer
1.30:
Panel

2

EVERYDAY SPACES   /   BOWLAND AUDITORIUM
Kate Ferris (History) Experiencing Dictatorship: Uncovering the Everyday Life History of Fascism in Italy
Eva Mendez (Creative & Critical Writing) Walking as Speaking and Witnessing in Assia Djebar's Women of Algiers in Their Apartment
Chris Perkins (Asian Studies) Sakaguchi Kyōhei and the Everyday: 0yen Houses and Independent States in post-3.11 Japan
SPECTACULAR DOMESTICITY   /   SEMINAR ROOM (BS 008)
Francesco Buscemi (Media, Communication & Performing Arts) Television as a Trattoria: Constructing the Woman in the Kitchen on Daily Italian Food Shows
Susan Fraiman (English) Homeless Domesticity
Alida Payson (Journalism, Media & Cultural Studies) 'Diving into the (cake) Wreck': Stirring up the Politics of Everyday Cooking and Creativity in Popular British Food Media
2.50:
Afternoon

Coffee

  /  

Bsb

Foyer
3.15:
Panel

3

POETICS OF THE ORDINARY   /   BOWLAND AUDITORIUM
Maria Cichosz (Women & Gender Studies) 'Hidden in plain sight all around us': Tripping, Ethical Attentiveness, and the Ordinary as Potential Resource in David Foster Wallace's Work
Kuang (Vivian) Sheng (History of Art) The 'Fabric' of Everyday Life: Yin Xiuzhen's Fantasy of 'Home-making' in the World
Judith Woolf (English and Related Literature) Transfigurations of the Commonplace: Hirst's Tumbler, Joyce's Tap
LEGACIES OF EVERYDAY LIFE THEORY   /   SEMINAR ROOM (BS 008)
Wood Roberdeau (Visual Cultures) Centralizing the Periphery: Social Art, Eco-Aesthetics and Liminal Space
Timothy Cooper (History) Wasting and the Political Ecology of Everyday Life in Modern Britain
Nicholas Beech (Architecture) The Domestication of the Everyday in Architecture at the Turn of the Century
4.45:
Keynote

Address

  /  

Bowland

Auditorium

Dr. Jennifer Baird, Birkbeck, University of London

Towards an Archaeology of the Everyday: The Material Past of Ancient Houses

Most of the material past studied by archaeology is the mundane, left-behind, thrown-away and commonplace stuff of everyday life. Using examples from my work on ancient Roman houses from a site on the Syrian Euphrates river, this presentation will explore how key concepts in archaeology might provide a way of interrogating the quotidian that have a broader relevance. These are materiality, assemblage, and time.

See: Baird, J. A. The Inner Lives of Ancient Houses: An Archaeology of Dura-Europos. Oxford, New York: Oxford University Press, 2014.
Day

2, 27 September
9.30:
Keynote

Address

  /  

Bowland

Auditorium

Prof. John Roberts, University of Wolverhampton

After Lefebvre: The 'Everyday', Cultural Praxis, and Political Economy Today
10.30:
Morning

Coffee

  /  

Bsb

Foyer
11.00:
Panel

4

DECODING THE QUOTIDIAN   /   BOWLAND AUDITORIUM
Sara Sewell (History) When the Extraordinary becomes Ordinary: Communist Culture in Everyday Life during the Weimar Republic
Joanne Lee (Fine Art) 'Keep chewing, look around you': Essaying the Everyday through the Pam Flett Press
Vasileios Kantas (Photography) Targeting the (Extra)ordinary through Photographing Quotidian Urban Scenes
ORDINARY BODIES?   /   SEMINAR ROOM (BS 008)
Adrienne Evans (Art & Design) From the Ordinary to the Extraordinary (and back again): Curious Affections in the Female Body
Mary O'Connor (English & Cultural Studies) The Gesture as Yearning: Vanessa Winship's she dances on Jackson
Laura Guthrie (English Literature) Normalising Disability in Fiction
12.30:
Lunch

  /  

Bsb

Foyer
1.15:
Panel

5

IS THE EVERYDAY PUBLIC?   /   BOWLAND AUDITORIUM
Luke Layzelle (English) 'Art Everywhere' and Nowhere: Economies of Visibility in a Public Experience of Art
Pedram Dibazar (Media & Culture) The Everyday Practices of the Rooftop
David Harte & Jerome Turner (Media & Communication) Hyperlocal Publishing and the Role of Banal Activism in Civic Engagement
PRACTISING THE EVERYDAY   /   SEMINAR ROOM (BS 008)
Catalin Brylla (Photography & Digital Media) Blindness and the Everyday: A Documentary Perspective
Ania Malinowska (Literary & Cultural Theory) Embarrassing and Everyday: Speculating on the Popular Representation(s) of "Shit"
Jacquelyn Allen-Collinson (Sport & Exercise Science) & John Hockey (Education) Everyday Envisionings: Running Pleasures and Pains
2.30:
Colloquium

  /  

Bowland

Auditorium
DR. NEAL ALEXANDER, University of Nottingham
PROF. HOLGER NEHRING, University of Stirling
DR. BRYONY RANDALL, University of Glasgow
DR. RUPERT READ, University of East Anglia
PROF. MICHAEL SHERINGHAM, All Souls, University of Oxford
DR. MICHAEL WHITE, University of York
IN A CONVERSATION CHAIRED BY PROF. BEN HIGHMORE, University of Sussex